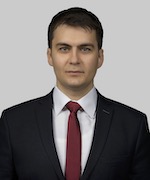 Bogdan Arsene is a member of Data Protection and AML team. He has more than more than thirteen years of experience in the legal field, out of which eight years exclusively in the data protection field and anti-money laundering regulations.
In the recent past, Bogdan held the position of Associate in a leading law firm in Central, Eastern and South-Eastern Europe (CEE/SEE) and also a position of Managing Associate in Global Legal Services Network of one of the Big Four accounting organizations. 
Also, Bogdan held the position of Data Protection Counsel for one of the biggest telecom groups in Romania, where he conducted data breach investigations, risk assessment procedures and implemented specific data protection requirements in order to make compliant Operator business activities with local and international data protection requirements.
Last but not least, Bogdan assisted an important Financial Group on achieving compliance with national legislation in Anti-money laundering and counter terrorist financing field.
Regarding Data Protection expertise, Bogdan's legal advice covers a full range of data protection and privacy matters including:
drafting and implementing of GDPR requirements within the Client organization: privacy policies, data protection obligations between the Controller and Processor, cookie policies and terms of use for websites;
assisting the client or carrying out audit and risk assessments;
assisting the client in data breach investigations, evaluating, designing and implementing and most effective solution to mitigate the risks;
advising on data protection issues associated with corporate transactions and transfer of personal data in connection with business transfers;
reviewing and/or drafting agreements and specific clauses for the processing of personal data;

 

advising on data protection issues arising for employers, including video surveillance, monitoring and recording of communications to, from and within their business and processing of sensitive personal data;
drafting recommendations regarding cross-border processing of personal data, including in connection with processing of personal data in cloud solutions, e-commerce, subscription systems and other IT solutions;
providing assistance in investigations initiated by Data Privacy Authorities;
drafting notification to Data Privacy Authority in order to obtain data protection authorization;
Regarding AML/CFT expertise, Bogdan's role includes:
evaluating and enhancing existing AML and CTF policies, procedures, and internal controls consistent with regulatory expectations and industry best practices;
furnishing legal advice in connection with risk-based procedures such as KYC and enhanced due diligence of customers, financial counterparties, and other business venture partners;
advising clients on AML risks and the implementation of best practices to address financial industry, commodities trading and emerging technology sectors, services, and products;
assisting clients in creating efficient solutions that comply with regulatory requirements in connection with implementing or enhancing AML-compliant internal controls.
Bogdan holds a Bachelor of Law from the University of Bucharest.
He is a member of the Bucharest Bar Association since 2008.