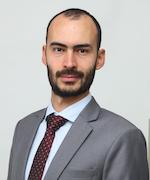 Daniel's practice is mainly focused on employment and consumer protection law. Daniel`s activity on employment field covers drafting or reviewing of individual agreements and internal regulations, assistance during the day-to-day employment issues, assistance in the disciplinary procedure, implementation of employment termination procedures, as well as amicable settlement of potential disputes.
Daniel gained relevant experience in the field of consumer protection law and he regularly advices clients on matters related to compliance with applicable laws of promotional and sales campaigns, product labeling, product warranties, producer's and distributor's liability. He also assists clients on e-commerce matters such as terms and conditions, obligations or return of products and represents them before the National Authority for Consumer Protection.
In corporate law matters, Daniel provides legal services including legal assistance during the incorporation process, drafting of corporate documents, transfer of share both within the company as well as to third parties, capital restructuring or amendments of statutory documentation.
Daniel holds a Bachelor's Degree in Law and a Master Degree in Labor Law from the Faculty of Law, University of Bucharest. He is a member of the Bucharest Bar since 2018.