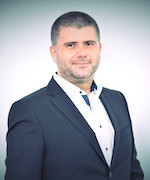 CECAR member, with more than 20 years of experience in the financial accounting field, Liviu focuses on proposing and solving various cases in the field represented.
During his professional development, Liviu has interacted with various departments, managing to create strong relationships and connections, always ready to provide optimal solutions to the requests received. His experience working with both legal entities and state bodies helped him in improving adaptive communication, task organization and time management. Liviu relies on trust and perseverance, but remains focused on innovation, providing fully secure accounting services thanks to the technologies used.
Also, being involved during his career in various other fields such as real estate, retail, production, he has acquired transversal competences that have ensured the successful accomplishment of all the challenges that have arisen.