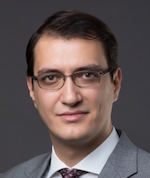 Victor is an attorney with over ten years of experience in EU and Romanian competition law. He has worked on a wide range of matters such as RPM and cartel investigations, state aid, and merger control at national and EC level, mainly concerning consumer electronics, FMCG, and pharmaceuticals.
He has a wealth of expertise in distribution and other vertical agreements, as well as in compliance programs. He also advises on data protection, corporate and commercial matters, and consumer law.
Victor is a member of the Bucharest and New York bars.