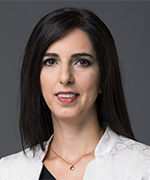 Carmen is a partner. She advises banks and other financial institutions as well as unregulated entities in all areas of financial services regulation. She has been working across product areas for private equity houses, international banks and large corporations and takes a proactive and flexible approach to the business issues faced by her clients.
She worked on a broad range of national and international structured finance transactions, particularly on real estate transactions, advising both corporations and major financial institutions. Over the years, she has developed a strong understanding of certain key sectors, in particular information technology and telecommunications, media, as well as outsourcing projects.
Carmen can also deal with highly sensitive employment issues and is advising a broad range of companies and multinational companies with a focus on the services industry, media, general industries and the consumer and healthcare sectors. She led the legal team involved in the acquisition of one of the largest private company groups on the Romanian market. Recently, she coordinated a restructuring and debt-recovery project in relation to the non-performing portfolio of a bank.